Regional Conditions for Bridgers
as of 5:00 am
| | |
| --- | --- |
| Apr 30 | 4″ | N/A |
| Apr 29 | 2″ | N/A |
| Apr 28 | 3″ | N/A |
8500′ at 1100
33 ℉
W - 17

mph
Gusts

22

mph
Bottom Line:
Avalanches will be mostly confined to new snow that falls. Shallow wet slides are possible if rain or warm temperatures melt the snow surface. Anticipate new snow stability to decrease with wind, sun or above freezing temperatures. Be aware of deeper wet slides if the snowpack doesn't freeze overnight, or if there is heavy rain. Now is just as important as ever to be diligent with snowpack assessment and choose terrain carefully. See our forecast page for general spring snowpack and travel advice.
Past 5 Days
Fri Apr 19

None
Mon Apr 22

None
Fri Apr 26

None
Mon Apr 29

None
Thu May 2

None
Northern Gallatin
Mt Blackmore
Skier triggered slide on Blackmore

Mt Blackmore
SS-ASc-R2-D2-I
Elevation: 10,000
Aspect: N
Coordinates: 45.4451, -111.0040
Caught: 0 ; Buried: 0
 From e-mail: "A ski cut at the top of the slope produced a soft slab avalanche (R2 D2 SS). The crown was 10" deep and 60' wide. Several other skiers had skied a line to the skiers right of our route with no obvious signs of instability or avalanches. No natural avalanches were observed with the exception of some small wet point release slides on the E face of Mt Blackmore."
More Avalanche Details
Displaying 1 - 40 of 4.6116860184274E+18
Weather Forecast Bridgers
Extended Forecast for
10 Miles NNE Bozeman MT
This
Afternoon

Slight Chance
T-storms

High: 63 °F

Tonight



Chance
T-storms then
Partly Cloudy

Low: 44 °F

Sunday



Slight Chance
Rain then
Chance
T-storms

High: 59 °F

Sunday
Night

Chance
Showers then
Partly Cloudy

Low: 43 °F

Monday



Mostly Sunny
then Showers
Likely

High: 60 °F

Monday
Night

Chance
Showers then
Partly Cloudy

Low: 45 °F

Tuesday



Mostly Sunny
then Chance
T-storms

High: 63 °F

Tuesday
Night

Chance
T-storms then
Mostly Clear

Low: 45 °F

Wednesday



Sunny then
Mostly Sunny
and Breezy

High: 62 °F
The Last Word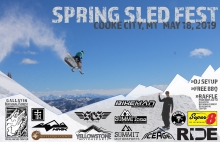 Have a safe and enjoyable spring and summer. See you when the flakes start to fly next Fall! -Doug, Eric, Alex and Ian