Trip Planning for Bridgers
as of 5:00 am
| | |
| --- | --- |
| Today | 7″ | 15-28 W |
| Dec 8 | 11″ | 15-87 W |
| Dec 7 | 0″ | 15-35 W |
Bottom Line:
Unstable snow is widespread across our advisory area. Weak snow at the ground that fell in October and early November has been overloaded by this week's new snow. Any slope that held snow before last weekend is suspect. If you ride on or beneath steep slopes today, expect to trigger avalanches. Avoid the hazard by sticking to lower angled slopes today and avoiding crossing runout zones beneath steeper slopes.
Past 5 Days
Sun Dec 3

None
Mon Dec 4

None
Thu Dec 7

Moderate
Fri Dec 8

Considerable
Today

Considerable
Widespread cracking and collapsing
Coordinates: 45.2952, -111.4100
Caught: 0 ; Buried: 0
Cracking and collapsing reported across the advisory area in the Bridger Range, Big Sky area, near West Yellowstone and Island Park, and near Cooke City.
More Avalanche Details
Bridger Range
Bridger Bowl
Skier triggered pocket at Bridger Bowl

Bridger Bowl
ASu-R0-D1
Elevation: 8,500
Aspect: NE
Coordinates: 45.8156, -110.9230
Caught: 0 ; Buried: 0
From IG: Pocket I set off between finger 2 and 3 at Bridger Bowl just above the road. Finger 1 had someone ski it while we were hiking and they got a face wide crack.
More Avalanche Details
Select a snowpit on the map to view the profile image
Weather Forecast Bridgers
10 Miles NNE Bozeman MT
This
Afternoon

Mostly Sunny

High: 23 °F

Tonight



Mostly Cloudy
and Breezy
then Chance
Snow and
Windy

Low: 19 °F⇑

Sunday



Snow Likely
and Windy
then Chance
Snow and
Breezy

High: 31 °F

Sunday
Night

Chance Snow

Low: 24 °F

Monday



Snow Likely

High: 30 °F

Monday
Night

Chance Snow
then Mostly
Cloudy

Low: 17 °F

Tuesday



Mostly Sunny

High: 30 °F

Tuesday
Night

Mostly Clear

Low: 17 °F

Wednesday



Sunny

High: 35 °F
The Last Word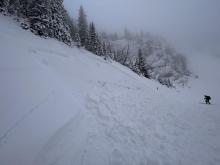 Listen to GNFAC Forecaster Dave Zinn on the Hoary Marmot Podcast for some extracurricular avalanche talk (link to episode).