Regional Conditions for Centennial Range
as of 5:00 am
| | |
| --- | --- |
| Today | 2″ | 10-20 SW |
| Mar 24 | 0″ | 10-20 N |
| Mar 23 | 0″ | 5-15 W |
8775′ 3/25 at 16:00
27 ℉
NW - 8

mph
Gusts

15

mph
Bottom Line:
This afternoon above freezing temperatures and sunshine will increase the possibility of wet snow avalanches. This morning, on mid-low elevation slopes and slopes that receive direct sun there is a stable, supportable frozen crust on the surface of a wet snowpack. On high elevation shady slopes the snowpack is dry and generally stable. Avoid steep slopes if the snow surface becomes wet and unsupportable, or if you sink above your boots in wet snow.
Cooke City
COOKE CITY
Avalanches in new snow in Cooke City

COOKE CITY
SS
Caught: 0 ; Buried: 0
These are observations from Doug Chabot's field trip on 3/8, Friday:
One slide was triggered on a steep (40 deg) southeast facing slope at Round Lake outside Cooke City. It failed 8" deep on a layer of graupel and small facets. An adjacent hill slid at the same depth beforehand. This layer is not on most slopes, but as this slide shows it is on some. Doug was in the area and dug a pit in the crown soon after it was triggered.
A slide under the cornice on the northeast face of Abundance looked to be 1 foot deep and 200' wide.
A snowboarder reported triggering an 8" deep slab on the south face of Scotch Bonnett in one of the Rasta's.
More Avalanche Details
Photos- Centennial Range & Lionhead
Videos- Centennial Range & Lionhead
Weather Forecast- Centennial Range
Extended Forecast for
10 Miles ESE Lakeview MT
Flood Advisory until March 27, 05:45pm
Click here for hazard details and duration
 

Flood Advisory until March 27, 05:45pm

NOW until
5:45pm Wed

Flood Advisory

Tonight



Mostly Cloudy

Low: 24 °F

Tuesday



Partly Sunny
then Mostly
Cloudy and
Breezy

High: 38 °F

Tuesday
Night

Chance Snow

Low: 28 °F

Wednesday



Chance Snow

High: 38 °F

Wednesday
Night

Snow

Low: 29 °F

Thursday



Heavy Snow

High: 32 °F

Thursday
Night

Snow then
Chance Snow

Low: 24 °F

Friday



Chance Snow

High: 30 °F
The Last Word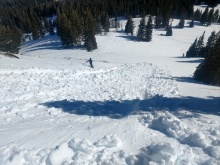 Spring is here and wet snow avalanches are becoming a daily concern. Anticipate decreasing stability while forming a travel plan. This article from Backcountry Magazine highlights some things look for that indicate when it is time to turn around.