Regional Conditions for Northern Madison
as of 5:00 am
| | |
| --- | --- |
| Today | 1″ | 15-35 SW |
| Jan 20 | 0″ | 15-25 SW |
| Jan 19 | 3″ | 10-25 WSW |
9400′ 1/21 at 21:00
20 ℉
SW - 14

mph, Gusts

22
0 "

New
Bottom Line:
Seventeen human triggered and natural avalanches were reported from this weekend in the mountains around Lionhead and Cooke City and the Bridger, Madison, and Southern Gallatin Ranges. People have been caught, but, thankfully, no one has ended up underneath the snow. While it continues to get harder to trigger these large avalanches each day without new snow, it is still possible. The management strategy is careful terrain selection and an honest assessment of what you are willing to risk.
Past 5 Days
Fri Jan 17

Moderate
Sat Jan 18

Considerable
Sun Jan 19

Moderate
Mon Jan 20

Moderate
Today

Moderate
Northern Madison
McAtee Basin
Snowmobile Triggered Avalanche McAtee Basin

McAtee Basin
HS-AMu-R2-D2-O
Coordinates: 45.1771, -111.4350
Caught: 0 ; Buried: 0
From Instagram: "I watched a snowmobiler set this avalanche off today. Very scary in MT right now."
More Avalanche Details
Lionhead Range
Lionhead Ridge
Snowmobile Triggered Avalanche Lionhead

Lionhead Ridge
HS-AM-R2-D2-G
Elevation: 8,800
Aspect: N
Coordinates: 44.7336, -111.3290
Caught: 1 ; Buried: 0
From email: "I wanted to make you aware of a snowmobile triggered slide in Lionhead today. Fortunately, I was not injured, was able to stay completely on top, climbed through the majority of the snow wash after seeing it begin to break, and relatively slowly slid down with the last of the moving snow while still on the machine. When I came to a stop I stood up and was completely free of the snow. Our group is trained in avalanche safety, practiced beacon use prior to leaving town in the morning, were wearing avy gear, and were very fortunate that this ended the way it did.  

A clear reminder that this can happen to any of us and to be careful out there."
More Avalanche Details
Northern Madison
Cedar Mtn.
Snowmobile triggered on Cedar

Cedar Mtn.
HS-R3-D2.5-O
Elevation: 10,000
Aspect: NE
Coordinates: 45.2263, -111.4960
Caught: 0 ; Buried: 0
I was on the west side of Pioneer Mtn digging a pit for YC Ski Patrol. I heard a few groups of snowmobiles cruising around the foothills of cedar. I turned and saw two snowmobilers cresting the ridge above the slide pictured as the debris was settling down. The sledders enjoyed the view for a few minutes before turning back the way they came and stumbled upon the slide they had unknowingly triggered. They skirted around the side of the crown and stopped for a few minutes. Based on the height of the rider off his sled, I would estimate the crown to be roughly 10' at its max height. NE aspect below Cedar
More Avalanche Details
WebCams

8800 Camera, Lone Peak view

Golf Course
Yellowstone Club, Timberline Chair
Weather Forecast Northern Madison
Extended Forecast for
5 Miles NNW Big Sky MT
Tonight



Snow and
Patchy
Blowing Snow

Low: 12 °F

Wednesday



Chance Snow
and Patchy
Blowing Snow

High: 15 °F

Wednesday
Night

Snow Likely
and Areas
Blowing Snow

Low: 14 °F

Thursday



Chance Snow

High: 24 °F

Thursday
Night

Mostly Cloudy

Low: 21 °F

Friday



Chance Snow

High: 26 °F

Friday
Night

Chance Snow

Low: 19 °F

Saturday



Slight Chance
Snow

High: 26 °F

Saturday
Night

Slight Chance
Snow

Low: 19 °F
The Last Word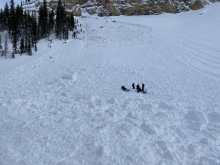 In the last week, there were five avalanche fatalities in the U.S., in Oregon, Idaho, Utah, California, and Colorado. This season there have been 12 avalanche fatalities (More info). We are deeply saddened by each of these events. The snowpack throughout the western U.S. buried weak layers that have been overloaded by storms since the start of 2020. Ride safe.