Regional Conditions for Northern Gallatin
as of 5:00 am
| | |
| --- | --- |
| Today | 0″ | 15-25 W |
| Nov 11 | 3″ | 10-15 W |
| Nov 10 | 0″ | 15-40 W |
9980′ 11/12 at 06:00
29.7℉
W - 22

mph
Gusts

37

mph
Bottom Line:
The snowpack stabilized with this week's warm, dry weather. Look for signs of wet snow instability with temperatures in the 40s F through Saturday. Assess how new snow bonds to our existing snowpack as winter returns later this weekend.
Past 5 Days
Sun Oct 27

None
Mon Oct 28

None
Fri Nov 1

None
Mon Nov 4

None
Fri Nov 8

None
Bridger Range
Bridger Bowl
Wet loose at Bridger

Bridger Bowl
WL-N-R1-D1
Coordinates: 45.8156, -110.9230
Caught: 0 ; Buried: 0
Several small wet loose avalanches were observed at Bridger Bowl on 11/5. 
More Avalanche Details
Northern Gallatin
Divide Peak
Cornice triggered slab in Hyalite

Northern Madison
Beehive Basin
Skier triggered small wind slabs in Beehive

Beehive Basin
SS-ASc-R1-D1.5-S
Elevation: 9,500
Coordinates: 45.3407, -111.3910
Caught: 0 ; Buried: 0
From e-mail: "Skied in the the beehive area today. Triggered some small wind slabs that were sliding on a crust. 
E aspect 9,100': Triggered from a stomping a small cornice, which landed on a steep slope below and popped a small wind slab.
NE aspect 10,000': Triggered while skiing through a choke point. This one was thin but ran down slope quite a ways because the terrain was steeper. It was easy to avoid by skiing off to the right, since the gully was just cross loaded a bit on the left.
SE aspect 9,800': The third was just some propagating cracks. The slope angle wasn't quite steep enough to slide here.
These instabilities appeared to be confined to areas of dense wind drifted snow on top of a crust layer and did not appear to be wide spread."
More Avalanche Details
WebCams
Bozeman Pass, Looking SE
Weather Forecast Northern Gallatin
Extended Forecast for
14 Miles SE Gallatin Gateway MT
Today



Patchy
Blowing Snow
and Breezy

High: 34 °F

Tonight



Snow and
Patchy
Blowing Snow

Low: 27 °F

Wednesday



Chance Snow
then Mostly
Sunny

High: 32 °F

Wednesday
Night

Mostly Clear

Low: 22 °F

Thursday



Mostly Sunny

High: 35 °F

Thursday
Night

Mostly Cloudy

Low: 29 °F

Friday



Partly Sunny

High: 40 °F

Friday
Night

Chance Snow

Low: 29 °F

Saturday



Chance Snow

High: 30 °F
The Last Word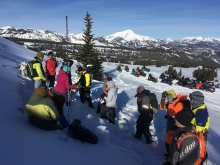 Our education calendar is full of awareness lectures and field courses. Check it out and plan to attend one or two: Events and Education Calendar.