Trip Planning for Bridgers
as of 5:00 am
| | |
| --- | --- |
| Today | 2″ | 15-25 W |
| Mar 30 | 2″ | 15-23 SE |
| Mar 29 | 1″ | 15-30 SE |
Bottom Line:
Avalanches in the upper snowpack can be triggered beneath the snow that fell over the last week, particularly where it's been more recently drifted by the wind. A harder to identify, but scarier possibility is triggering a deep slab avalanche.You'd have to get unlucky to trigger one of these slides today, but if you do, the consequences could be huge. Avalanches in the newer snow could also step down and trigger a deeper slide.
Past 5 Days
Mon Mar 27

Considerable
Tue Mar 28

Moderate
Wed Mar 29

Moderate
Thu Mar 30

Moderate
Today

Moderate
Bridger Range
Bridger Peak
Large avalanche on Bridger Peak
Bridger Peak
N
Elevation: 10,000
Aspect: E
Coordinates: 45.7701, -110.9400
Caught: 0 ; Buried: 0
Two large, widely propagation fractures visible through a hole in the cloud cover Monday A.M. from Bridger Canyon Dr. Upper slab failure evidently stepped down to a deeper layer estimated 400' below upper crown. Both crowns appeared to be similar depth. Also visible were debris toes further to the North that had run mostly full path. Looked like it was already covered up yesterday (tues).
A second ob via phone message:
A large natural avalanche occurred on the north summit of Bridger Peak yesterday (Monday, 27 March). The crown line was complex.
More Avalanche Details
Bridger Range
The Throne
Natural release Battle Ridge

The Throne
N-R2-D2
Aspect: SE
Coordinates: 45.8822, -110.9520
Caught: 0 ; Buried: 0
From IG: Battle ridge today/yesterday the 27th. Noticed this and a few other smaller solar releases as well as a couple storm slabs from during the cycle. Sun crust formed rapidly and there was a lot of wind loading in the afternoon
More Avalanche Details
Bridger Range
The Throne
Recent avalanches on the Throne

Select a snowpit on the map to view the profile image
Weather Forecast Bridgers
10 Miles NNE Bozeman MT
This
Afternoon

Patchy
Blowing Snow

High: 36 °F

Tonight



Mostly Cloudy
and Windy

Low: 25 °F

Saturday



Mostly Cloudy
then Snow
Likely and
Patchy
Blowing Snow

High: 39 °F

Saturday
Night

Snow and
Patchy
Blowing Snow

Low: 19 °F

Sunday



Chance Snow
and Patchy
Blowing Snow

High: 31 °F

Sunday
Night

Chance Snow

Low: 15 °F

Monday



Chance Snow
then Snow
Likely

High: 31 °F

Monday
Night

Snow Likely

Low: 17 °F

Tuesday



Snow Likely

High: 26 °F
The Last Word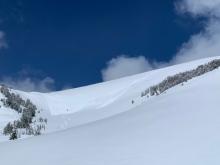 Avalanches have killed 23 people in the United States so far this season. On Monday, March 27th, a snowmobiler was killed in an avalanche in Utah. This was the tenth fatality in March.

More info on each event is available at the Avalanche.org Accidents Page.