Regional Conditions for Bridgers
as of 5:00 am
| | |
| --- | --- |
| Apr 30 | 4″ | N/A |
| Apr 29 | 2″ | N/A |
| Apr 28 | 3″ | N/A |
8500′ at 1100
33 ℉
W - 17

mph
Gusts

22

mph
Bottom Line:
Avalanches will be mostly confined to new snow that falls. Shallow wet slides are possible if rain or warm temperatures melt the snow surface. Anticipate new snow stability to decrease with wind, sun or above freezing temperatures. Be aware of deeper wet slides if the snowpack doesn't freeze overnight, or if there is heavy rain. Now is just as important as ever to be diligent with snowpack assessment and choose terrain carefully. See our forecast page for general spring snowpack and travel advice.
Past 5 Days
Fri Apr 19

None
Mon Apr 22

None
Fri Apr 26

None
Mon Apr 29

None
Thu May 2

None
Northern Madison
Beehive Basin
Natural Wet Slab in Beehive

Beehive Basin
WS-N-R4-D2.5-O
Elevation: 9,600
Aspect: S
Coordinates: 45.3508, -111.4040
Caught: 0 ; Buried: 0
Skiers saw a large wet slab that released naturally sometime before 0745 on Tuesday (5/14). 
More Avalanche Details
Bridger Range
Saddle Peak
Natural wet slab on Saddle Peak

Saddle Peak
WS-NC-R2-D2.5-O
Elevation: 9,000
Aspect: E
Coordinates: 45.7952, -110.9350
Caught: 0 ; Buried: 0
Wet slab released naturally Tuesday (5/14/19) evening on Saddle Peak. "South side of 1/4 Saddle slid sometime last night. Looks like cornice drop then step down to near ground. Hi yesterday at Alpine was 62." -R. Elliott/BBSP
More Avalanche Details
Bridger Range
Bridger Bowl
Glide Avalanche on Glide Plane

Bridger Bowl
WS-N-R3-D2.5-G
Elevation: 7,750
Aspect: E
Coordinates: 45.8240, -110.9250
Caught: 0 ; Buried: 0
"South side of the Glide Plane released as a glide avalanche last evening (May 12th) sometime around 6 pm according to source. Bed surface was ground in starting zone of wet clay soil sparsely covered in long grass.  Debris chunks, some snowmobile sized, rode up on surface and slid approx. 200 vert.  Debris could have bumped a tower on the old Alpine lift if it still lived there. Last freeze was 6 am on the 10th of May.  The high temperature on the 12th was 59 degrees at 4 pm." 
From BBSP Avalanche Atlas:
Interesting Events:
"The Glide Plane annually develops a significant glide crack starting on the north side of the lower section. There is only one event  (late 1960's) of this path breaking out to the ground that can be recalled (glide avalanche). This occurred sometime when Randy Elliott was a grade-schooler and it did damage to a tower on the old Alpine lift. A deflector was then built onto the damaged tower. Mitigation efforts throughout the 80's consisted of extensive boot packing early season and one attempt of encircling entire slope with det chord. These efforts proved futile, as the crack still developed and the slope remained intact.
Circa 2013 when the original Alpine chair was removed, the road cut known as the 3 Bears Traverse was filled back in with its original material that had been the foundation of the unload station of the old Alpine. This is the 3rd season (2016) with the original landscape, the glide crack has still opened but the slope has stayed in place.
Early 1980's, Joel Jurgens wanted to test the slope because of rapid movement. Buried big shots on flanks and Goldilocks Traverse level strung together with det cord. –Randy Elliott 2017" - Pete Maleski 2015-2016
More Avalanche Details
Displaying 1 - 40 of 4.6116860184274E+18
Weather Forecast Bridgers
Extended Forecast for
10 Miles NNE Bozeman MT
Tonight



Chance Snow
and Breezy

Low: 31 °F

Tuesday



Snow Likely
and Breezy

High: 37 °F

Tuesday
Night

Snow and
Breezy

Low: 29 °F

Wednesday



Snow

High: 34 °F

Wednesday
Night

Snow Likely
then Chance
Snow

Low: 30 °F

Thursday



Chance Snow

High: 36 °F

Thursday
Night

Chance Snow

Low: 31 °F

Friday



Chance
Rain/Snow
then Chance
Showers

High: 45 °F

Friday
Night

Chance
Showers then
Partly Cloudy

Low: 33 °F
The Last Word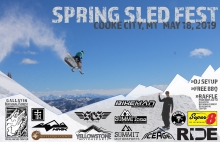 Have a safe and enjoyable spring and summer. See you when the flakes start to fly next Fall! -Doug, Eric, Alex and Ian