Regional Conditions for Lionhead Range
as of 5:00 am
| | |
| --- | --- |
| Feb 15 | 6″ | 10-20 W |
| Feb 14 | 14″ | 15-20 SW |
| Feb 13 | 3″ | S |
8775′ 2/16 at 4:00
10 ℉
NW - 3

mph
Gusts

9

mph
Bottom Line:
Natural and human triggered avalanches are likely on all wind loaded slopes. Areas loaded by west-southwest winds will be the most susceptible to holding wind drifted snow. Human triggered avalanches are also likely on non-wind loaded slopes. During these conditions, avoiding steep slopes and avalanche run out zones is essential. This includes staying off small steep slopes like road cuts and creek beds that may seem harmless during more stable conditions.
Past 5 Days
Mon Feb 11

Considerable
Tue Feb 12

Considerable
Wed Feb 13

Considerable
Thu Feb 14

High
Fri Feb 15

High
Centennial Range
Centennials - Idaho
Snowmobiler caught and buried in Centennials

Lionhead Range
Lionhead Ridge
Snowmobile triggered at Lionhead


Lionhead Range
Lionhead Ridge
Natural avalanches at Lionhead


Lionhead Ridge
SS-N-R2-D2
Elevation: 9,000
Caught: 0 ; Buried: 0
GNFAC forecasters' observation: On 2/8/19 we observed 3 recent avalanches with unknown triggers (assumed natural) and one snowmobile triggered avalanche (listed separately as AMu on 2/6/19) along Lionhead Ridge. Three of them, including the snowmobile triggered slide, broke 3-4+ feet deep on sugary weak snow in the lower 1/3 of the snowpack. One avalanche broke 2' deep in the recent storm snow.
More Avalanche Details
Photos- Lionhead Range
Displaying 1 - 40 of 4.61168601843E+18
Weather Forecast Lionhead Range
Extended Forecast for
10 Miles WNW West Yellowstone MT
Overnight



Chance Snow

Low: 13 °F

Saturday



Snow Likely

High: 15 °F

Saturday
Night

Chance Snow
and Patchy
Fog

Low: 5 °F

Sunday



Snow Likely

High: 14 °F

Sunday
Night

Slight Chance
Snow then
Mostly Cloudy

Low: -6 °F

Washington's
Birthday

Chance Snow

High: 8 °F

Monday
Night

Partly Cloudy

Low: -8 °F

Tuesday



Slight Chance
Snow

High: 9 °F

Tuesday
Night

Chance Snow

Low: -1 °F
The Last Word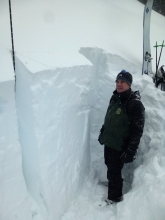 The Friends of the Avalanche Center and Montana State Parks installed an avalanche danger sign outside Cooke City. It sits next to the beacon checker and will be seen by riders and skiers as they head out of town.