Regional Conditions for Centennial Range
as of 5:00 am
| | |
| --- | --- |
| Apr 30 | 0″ | N/A |
| Apr 29 | 1″ | N/A |
| Apr 28 | 1″ | N/A |
Bottom Line:
Avalanches will be mostly confined to new snow that falls. Shallow wet slides are possible if rain or warm temperatures melt the snow surface. Anticipate new snow stability to decrease with wind, sun or above freezing temperatures. Be aware of deeper wet slides if the snowpack doesn't freeze overnight, or if there is heavy rain. Now is just as important as ever to be diligent with snowpack assessment and choose terrain carefully. See our forecast page for general spring snowpack and travel advice.
Northern Madison
Fan Mountain
Natural wet slabs on Fan Mtn.

Fan Mountain
WS-N-R3-D3-O
Elevation: 10,000
Coordinates: 45.2991, -111.5220
Caught: 0 ; Buried: 0
Natural wet slabs were widespread on Fan Mtn. near Big Sky during the week of 5/13-5/16.
More Avalanche Details
Northern Madison
Beehive Basin
Natural Wet Slab in Beehive

Beehive Basin
WS-N-R4-D2.5-O
Elevation: 9,600
Aspect: S
Coordinates: 45.3508, -111.4040
Caught: 0 ; Buried: 0
Skiers saw a large wet slab that released naturally sometime before 0745 on Tuesday (5/14). 
More Avalanche Details
Bridger Range
Saddle Peak
Natural wet slab on Saddle Peak

Saddle Peak
WS-NC-R2-D2.5-O
Elevation: 9,000
Aspect: E
Coordinates: 45.7952, -110.9350
Caught: 0 ; Buried: 0
Wet slab released naturally Tuesday (5/14/19) evening on Saddle Peak. "South side of 1/4 Saddle slid sometime last night. Looks like cornice drop then step down to near ground. Hi yesterday at Alpine was 62." -R. Elliott/BBSP
More Avalanche Details
Photos- Centennial Range & Lionhead
Displaying 1 - 40 of 4.6116860184274E+18
Weather Forecast- Centennial Range
Extended Forecast for
10 Miles ESE Lakeview MT
Overnight



Snow Showers
Likely

Low: 30 °F

Wednesday



Breezy.
Chance Snow
Showers then
Chance
Rain/Snow

High: 41 °F

Wednesday
Night

Blustery.
Slight Chance
Snow Showers
then Mostly
Cloudy

Low: 30 °F

Thursday



Breezy.
Slight Chance
Snow Showers
then Chance
Rain/Snow

High: 41 °F

Thursday
Night

Chance
Rain/Snow
then Slight
Chance Snow
Showers

Low: 30 °F

Friday



Chance
Rain/Snow
then Showers

High: 42 °F

Friday
Night

Showers
Likely then
Chance
T-storms

Low: 33 °F

Saturday



Slight Chance
Rain/Snow
then Showers
Likely

High: 47 °F

Saturday
Night

Chance
T-storms

Low: 33 °F
The Last Word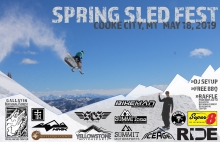 Have a safe and enjoyable spring and summer. See you when the flakes start to fly next Fall! -Doug, Eric, Alex and Ian